IDD services provide individuals and their families a safe space to develop necessary skills and improve their overall quality of life in a stable, supportive, and caring environment.
Day Services and Programs
CSBMG offers nine person-centered day programs that teach skill development and increase work opportunities for developmentally disabled citizens in our communities. IDD individuals develop skills and learn lessons through our programs to integrate into their environments and become active community members.
Each program provides:
Community access services
Prevocational services
Supported employment
Other educational/recreational activities
Day Service Locations
We offer locations for IDD services across the Middle Georgia region.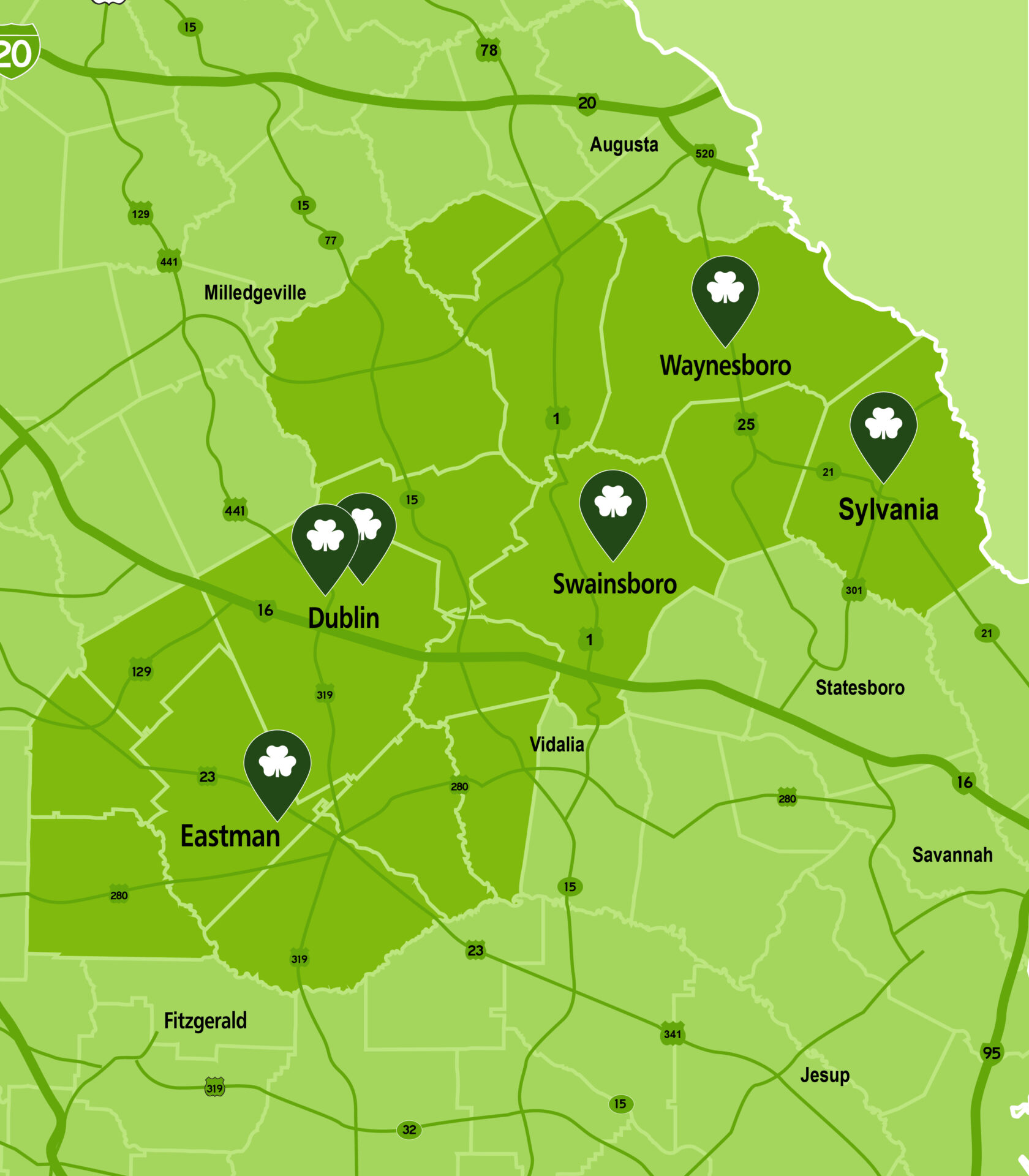 Community Living Supports Program
The CLS Program offers support for IDD individuals who live independently or with family members. CLS program members benefit from services such as:
Budgeting
Community living
Household management
Transportation
S.P.I.R.I.T. Day Center
Supporting Peers In Recovery Initiatives Taskforce
Individuals with dual diagnoses of behavioral health issues and developmental disabilities are led by Certified Peer Specialists (CPSs). Through S.P.I.R.I.T., leaders and members can connect, learn new skills, make friends, share opinions, and be heard!
S.P.I.R.I.T. members must be referred and must meet admission criteria.
Residential Programs
Community Service Board of Middle Georgia offers eight Community Residential Arrangements (CRAs) that provide room and board to IDD individuals.
Homes are located in Dodge, Laurens, and Treutlen Counties and offer:
Assistance with reaching goals
Meals
Recreational/leisure outings
Self-supervision of medication
Transportation
Family Support Services
IDD individuals and their families are provided disability-specific services based on their unique needs. Families belong together, and individuals are best served in a community setting. Family support services promote a cohesive family unit while helping individuals live at home and participate in their community, helping meet everyday needs that are often critical in avoiding family crises.
How to Get Started
Families interested in accessing our intellectual and developmental disabilities services can call 470-759-3162 for an initial interview. Upon contact, you will receive information on how to access services through the Region 2 and Region 5 Field Office Intake and Evaluation Team.
Region 2 Intake and Evaluation Team
Primary: 706-792-7741
Toll-Free: 877-551-4897
Counties Served: Burke, Emanuel, Glascock, Jefferson, Jenkins, Screven
Region 5 Intake and Evaluation Team
Primary: 912-303-1649
Fax: 912-351-6309
Counties Served: Bleckley, Dodge, Johnson, Laurens, Montgomery, Pulaski, Telfair, Treutlen, Wheeler, Wilcox
Waiver Information
CSB of Middle Georgia assists with Medicaid-waiver-approved support for adults with intellectual or developmental disabilities. Our team features Masters-level administrative employees and clinicians, Developmental Disabilities Professionals (DDPs), Direct Support Professionals (DSPs), Behavioral Analysts, Registered Nurses, Physicians, and other support staff who provide quality care.
If you or a loved one has a waiver, please contact your support coordinator to discuss receiving services from the Community Service Board of Middle Georgia.
If you do not have a waiver, we offer other services that would be helpful, particularly for those who have a co-occurring behavioral health challenge. We also offer private pay services while you apply for waiver consideration. Our team can also assist with the waiver application.
Download the Waiver Application
*CSB of Middle Georgia follows all HIPAA guidelines defined by federal law. All information you give us is confidential and cannot be given out without written consent except in the case of a medical emergency, when there is a danger to yourself or someone else, or when court-ordered to do so. We release information to insurance companies, Medicaid, and Medicare based on your consent during intake.
Payments and Fees
Every individual who enters our program must receive funding through Medicaid Waiver services or State Contracted Services. Without funding, individuals will be responsible for all services received.